Rise & Shine Players presents ALICE IN WONDERLAND!
Join us on Friday April 25th, 2014 @ 7pm in the auditorium at Hickory Ridge High School.  7321 Raging Ridge Rd, Harrisburg, NC 28075.
Tickets will be available at the door on the evening of the performance and can be purchased through cash or debit/credit card.  Concessions available.
Admission is priced as follows:
$4 for adult tickets (ages 12 +)
$3 for a children's ticket (ages 3-11)
FREE for children ages 2 and under
All profit from ticket sales will be donated to The Faith Hope & Joy Foundation, a non-profit organization that provides food and basic healthcare to a school of Haitian refugee children living in the Dominican Republic.  It is an incredible organization with an equally incredible mission of blessing others.  Thanks to your patronage, last season, Rise & Shine Players performers were able to donate $600 to contribute to food and medical care!  Please join us in an evening of entertainment and service!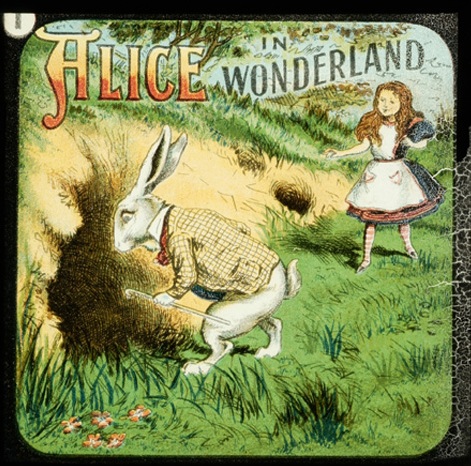 Spring 2014 Production:  Alice in Wonderland –
ENROLLMENT CLOSED
Join Lewis Carroll on a nonsensical journey through Wonderland as Alice follows her insatiable curiosity and the strange White Rabbit.  Come along as Alice enters a dreamland of remarkable characters, danger, and madcap adventure; and you're sure to find a smile that will follow you home!
How to Enroll:
Click ENROLL NOW link.
Submit the enrollment form.
Submit the $25/child deposit.
Who:  
Open enrollment for actor/actress roles for proficient readers ages 5+.  Children are expected to read their script lines independently in front of the group beginning on the rehearsal after parts are cast.
Cost:
$80/child for the performance season ($25 due at time via paypal, and $55 balance due at the first class).  Sibling Discount applies where applicable.
The enrollment fee includes:

13, 1-hour rehearsals and 2, 2-hour rehearsals (total 17 hours of rehearsal instruction)
1 invited dress rehearsal
1 evening performance

Costumes and other necessaries are provided by the parent, however costumes are inexpensive and most can be created using items you have at home.
Rehearsal Location:
Cannon Memorial YMCA located @ 4110 Main Street, Suite 200 Harrisburg, NC 28075
Rehearsal Schedule:
2:00-3:00pm on Mondays and Wednesdays for an 8-week session, on the dates below:

3/5, 3/10, 3/12, 3/17, 3/19, 3/24, 3/26, 3/31, 4/2, 4/7, 4/9, 4/14, 4/16

1:00-3:00 during the final rehearsal week, on the dates below:
Dress Rehearsal Schedule:
1:00-3:00pm on Friday April 25, 2014 at the Town of Harrisburg Municipal Complex, located @ 4110 Main Street Harrisburg, NC 28075.
Performance Schedule:
When:  Friday April 25, 2014 @ 7pm
Where:  Hickory Ridge High School stage & auditorium.
7321 Raging Ridge Rd
Harrisburg, NC  28075
Parent Participation:
Parent participation is key to achieving a successful experience, therefore participation in Rise & Shine Players℠ should be considered a family commitment.  Parents are encouraged to include any theatre-related talents in the appropriate spot on the enrollment form, however a list of volunteer opportunities will also be emailed to parents before the 2014 season begins.
One parent from each family is required to:

Attend a parent meeting held during the first rehearsal on 3/5/14 at the YMCA from 2:00 – 3:00.  Volunteer roles and marketing assignments will be made during this meeting.
Volunteer approximately 6 hours of time in their assigned role (costume design, set design, playbill creation, etc.)
Visit 2-3 local businesses to sell advertising space in the playbill