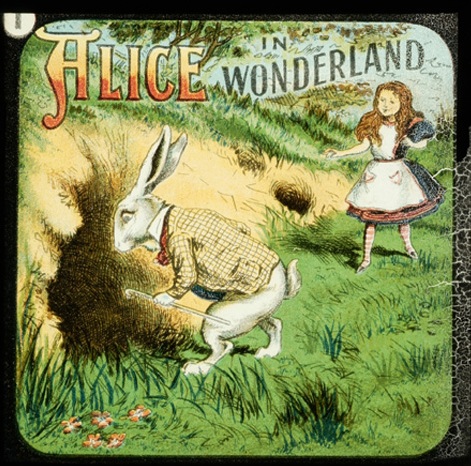 Spring 2014 Production:  Alice in Wonderland
Join Lewis Carroll on a nonsensical journey through Wonderland as Alice follows her insatiable curiosity and the strange White Rabbit.  Come along as Alice enters a dreamland of remarkable characters, danger, and madcap adventure; and you're sure to find a smile that will follow you home!
How to Enroll:
Click ENROLL NOW link.
Submit the enrollment form.
Submit the $25/child deposit.
Who:  
Open enrollment for actor/actress roles for proficient readers ages 5+.  Children are expected to read their script lines independently in front of the group beginning on the rehearsal after parts are cast.
Cost:
$80/child for the performance season ($25 due at time via paypal, and $55 balance due at the first class).  Sibling Discount applies where applicable.
The enrollment fee includes:

13, 1-hour rehearsals and 2, 2-hour rehearsals (total 17 hours of rehearsal instruction)
1 invited dress rehearsal
1 evening performance

Costumes and other necessaries are provided by the parent, however costumes are inexpensive and most can be created using items you have at home.
Rehearsal Location:
Cannon Memorial YMCA located @ 4110 Main Street, Suite 200 Harrisburg, NC 28075
Rehearsal Schedule:
2:00-3:00pm on Mondays and Wednesdays for an 8-week session, on the dates below:

3/5, 3/10, 3/12, 3/17, 3/19, 3/24, 3/26, 3/31, 4/2, 4/7, 4/9, 4/14, 4/16

1:00-3:00 during the final rehearsal week, on the dates below:
Dress Rehearsal Schedule:
1:00-3:00pm on Friday April 25, 2014 at the Town of Harrisburg Municipal Complex, located @ 4110 Main Street Harrisburg, NC 28075.
Performance Schedule:
When:  Friday April 25, 2014 @ 7pm
Where:  Hickory Ridge High School stage & auditorium.
7321 Raging Ridge Rd
Harrisburg, NC  28075
Parent Participation:
Parent participation is key to achieving a successful experience, therefore participation in Rise & Shine Players℠ should be considered a family commitment.  Parents are encouraged to include any theatre-related talents in the appropriate spot on the enrollment form, however a list of volunteer opportunities will also be emailed to parents before the 2014 season begins.
One parent from each family is required to:

Attend a parent meeting held during the first rehearsal on 3/5/14 at the YMCA from 2:00 – 3:00.  Volunteer roles and marketing assignments will be made during this meeting.
Volunteer approximately 6 hours of time in their assigned role (costume design, set design, playbill creation, etc.)
Visit 2-3 local businesses to sell advertising space in the playbill