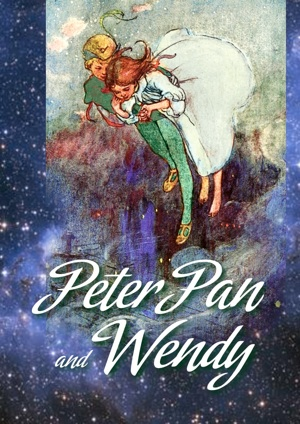 Spring 2015 Production:  Peter Pan and Wendy Musical
Enrollment is now closed.  We had an incredible response for actors for this performance and have exceeded our 30 participant max.  If you are interested in participating but have not yet registered, please email me for availability at katie@riseandshineplayers.org.
Join the Darling children of Bloomsbury, England and their fantasies of growing up — embodied by a magical flying boy called Peter Pan and joined by a host of fairies, natives, lost boys, pirates, and mermaids.
Important Registration Information:
Registration for the performance will be capped at 30 participants, first come first serve.
Registration opens on January 9, 2015 and will close on March 12, 2014, one week before the first rehearsal, in order to give the director time to finalize the script.
All participants are asked to attend auditions on Tuesday, February 17, 2015 at 2:00pm hosted at the Harrisburg YMCA.  If  your child wants to know their role before they commit to participating, they are welcome to attend auditions prior to registering, and can register afterwards.
Children who do not attend auditions are still invited to participate, but should anticipate filling supporting and ensemble roles.
How to Enroll: 
Click ENROLL NOW link.
Submit the enrollment form.
Submit the $25/child deposit.
Who:  
Open enrollment for actor/actress roles for proficient readers ages 5+.  Children are expected to read their script lines independently in front of the group beginning on the rehearsal after parts are cast.
Cost:
$80/child for the performance season ($25 due at time via paypal, and $55 balance due at the first class).  Sibling Discount applies where applicable.\
The enrollment fee includes:

13, 1 or 2-hour rehearsals and 2, 2-hour rehearsals (total 17-30 hours of rehearsal instruction)
1 invited dress rehearsal
2 evening performances

Costumes and other necessaries are paid for separately by the parent, however costumes are inexpensive and most are created by the parent costume design team.
Rehearsal Location:
Cannon Memorial YMCA located @ 4110 Main Street, Suite 200 Harrisburg, NC 28075
Group Read-Through:
We will be hosting a group read-through of the script prior to the first rehearsal on March 5, 2015 at 1:00pm at the Harrisburg YMCA.   Parents are welcome to attend.
Rehearsal Schedule:
Participants must be available to rehearse from 1-3pm, although they may not need to be there until 2pm on any given day, as follows:
1:00-2:00pm for all participants on Tuesdays and Thursdays for an 8-week session, on the dates below:

3/19, 3/24, 3/26, 3/31, 4/2, 4/7, 4/9, 4/14, 4/16, 4/21, 4/23, 4/28, 4/30
2:00-3:00pm depending on the scene/cast called to rehearse early on that particular day
1:00-3:00 for all participants during the final rehearsal week, on the dates below:
Dress Rehearsal Schedule:
1:00-3:00pm on Friday May 8, 2015 at the Harrisburg YMCA, located @ 4110 Main Street, Suite 200 Harrisburg, NC 28075.
Performance Schedule:
When:  Friday May 8, 2015 @ 7pm   AND  Saturday May 9, 2015 @ 7pm
Where:  Hickory Ridge High School stage & auditorium.
7321 Raging Ridge Rd
Harrisburg, NC  28075
Parent Participation:
Parent participation is key to achieving a successful experience, therefore participation in Rise & Shine Players℠ should be considered a family commitment.  Parents are encouraged to include any theatre-related talents in the appropriate spot on the enrollment form, however a list of volunteer opportunities will also be emailed to parents before the 2014 season begins.
One parent from each family is required to:

Attend a parent meeting held during the first rehearsal on 3/19 at the YMCA from 2:00 – 3:00.  Volunteer roles and marketing assignments will be made during this meeting.
Volunteer approximately 6 hours of time in their assigned role (costume design, set design, playbill creation, etc.)
Visit 2-3 local businesses to sell advertising space in the playbill
 Auditions:

 
All participants (those who have registered prior to auditions as well as those who are planning to register after auditions) are asked to attend the auditions on  Tuesday February 17, 2015 at 1pm in the Character Room of the Harrisburg YMCA.
This is a musical — all participants will receive stage time and speaking parts regardless of their role!!
How to Prepare for Auditions: 
The main things to expect at auditions are a lot of fun, no need for nerves, and the chance to be loud and play make-believe. You can expect to read for your choice of character, and you can expect to read for lots of other characters, as well! Parents are welcome, but not required, to stay with their students during the audition. We will start with a warm-up to get ready, followed by a game, and then continue with cold readings from the script. We will do an activity that focuses on volume and how loud each student can be onstage. Finally, I am also asking that each student be ready to sing a simple song (Very simple. I'm looking at Twinkle, Twinkle, Little Star or I'm A Little Teapot kind of thing) with motions and/or expression. You do NOT have to feel like singing is your strong-suit. Peter Pan and Wendy includes a lot of simple songs, and this is just a way to see who is most willing to sing and have fun with it in front of an audience. Basically, just be yourself no matter your singing ability. Also, note that a lot of the songs are sung as part of a group, so I may ask several people to sing the same song at once.
                The best way to prepare at home for auditions:
Practice being loud. Project your voice.
Read books out loud. Use different voices for each character & try to express their emotions.
Get to know the story of Peter Pan so that you can be familiar with the characters.
Pick a simple song and practice singing it in a fun way (e.g. hand motions, in character, whatever you choose).
Characters/Roles:
READ THE CHARACTER BREAKDOWN TO HELP YOU UNDERSTAND THE ROLES BEFORE AUDITIONS!!
The Darling Household:
Mr. Darling, Mrs. Darling, Liza (the housekeeper), Nana (the dog), Wendy, John, Michael
The Lost Boys:
Tootles, Slightly, Nibs, Curly, Tip & Tap
Never Land Tribe:
Princess Tiger Lily, Little Panther, Big Hawk
The Pirates:
Captain Hook, Mr. Smee, Starkey, Cecco, Bill Jukes, Muggins and others
Mermaids
Faeries
Peter Pan
Tinker Bell
Narrator